Can you accept the truth about your lifestyle?
These web pages are devoted to people who want to start improving their lifestyles (eating habits and exercise) for preventing or reversing chronic diseases (cardio-vascular disease, atherosclerosis, arterial hypertension, gout, diabetes and cancer) as well as averting premature death. The facts on how to do this are well established since over 40 years.
Do you realize that 90% of all American have atherosclerosis (Kurzweil, 1993), undeniably meaning that you have it too even at youngest age? Atherosclerosis refers to the buildup of fat and cholesterol in the artery walls (plaques) leading to heart failure and being promoted by overweight, diabetes, high blood pressure and smoking.
Thus, it is just mind boggling that, today, we have an all-time high overweight and obesity rate (62% of the population) and ravaging coronary heart disease being the single leading cause of death in America closely followed by cancer. Over 75% of Americans have a chance of having a heart attack during their life and over 17.6 million people are alive among us now having a history of heart attack, angina pectoris (chest pain from cardiovascular disease) or both. This prevailing deterioration of heart health cannot be stemmed with reactive emergency measures like the 250,000 successful bypass surgeries (CABG) performed in the US every year as reported by
<![if !vml]>
<![endif]>
The change must come from yourself by proactively starting to improve your own lifestyle.
Three books were recently published on this subject (see link in the side menu). After reading anyone of them, I am sure of, you immediately will want to adapt to the advocated diets and other essential behaviors. You can easily assess your progress towards your general health baseline using one of the important principal indicator in your blood component values:
your LDL (bad cholesterol) must be below 85 or 70 mg/dL
(70 mg/dL if you are a high-risk patient with diagnosed coronary heart disease). The easiest ways for achieving this health status is to combine daily exercising with a plant, fish & olive oil diet while staying on a low dose statin:
<![if !vml]>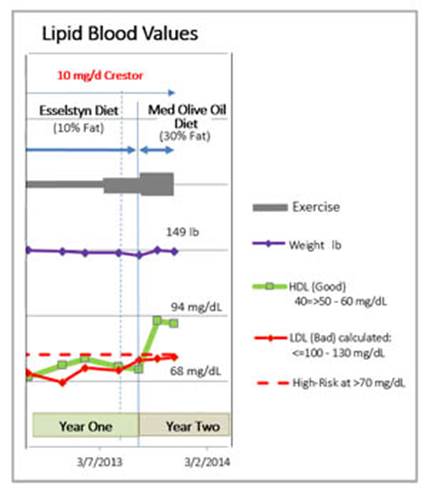 <![endif]>
Lifestyle-dependent Lipid Blood Values. The chart shows the cholesterol levels for two successively followed complementary diets while staying on low-dose statin. More details, illustrated with daily lifestyle and diet pictures for a six months period, are provided on this site.
Start with improving of your diet, do physical excises, stop smoking, adjust your blood pressure, blood sugar level and weight, and reduce your personal stress level. This website provides a pictured guide that will help you changing your dietary habits to the recommended
Plant-based diet of low sodium and low-sugar (low-fat Esselstyn Diet) complemented with olive oil, nuts, fish and poultry (Mediterranean Olive Oil Diet).
The site is meant to help you getting started with a healthier life style
For The Love of Your Heart, your Family and Friends.
<![if !vml]>

<![endif]>
Here are easy instructions for the new way of cooking and eating. Pictures are provided on ingredients, food preparation and meal serving.